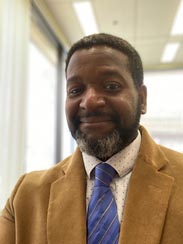 Roosevelt Smith
Position:
Real Colors and Motiviational Interviewing Facilitator
Practice Areas:
Management / Police / Probation
Personal Experience
Roosevelt Smith is currently employed as a Supervisor with United States Probation and Pretrial Services Office.  His career spans over 15 years with the organization including being assigned as a specialist within the sex offender supervision unit and four years working with a generalized caseload.  In 2008, Roosevelt completed the Real Colors Facilitators Certification Program and facilitated this training over the past 13 years to men and women on community supervision as well as church groups and nonprofit organizations.
Roosevelt has attended Basic Motivational Interviewing (MI), Advanced MI, and participated in Coding and has reached MI proficiency as defined by the Motivational Interviewing Treatment Integrity (MITI) instrument. He is also certified in STARR (Staff Training Aimed at Reducing Recidivism) techniques in the federal system.
Roosevelt strongly believes that any level of investment in an organization's communication skills has exponential benefit to both the organization as a whole and those they network with.  Throughout Roosevelt's criminal justice career he has mentored others to understand the value of strong communication skills and in doing so, ensuring a better opportunity for reduced recidivism.   As federal probation officer, Roosevelt has exemplified his balanced approach to supervision with his involvement in the Search Team, Surveillance Team, his role as the sex offender supervision team chair and as the District's Lead Firearm instructor for over 10 years .  He currently oversees the District's implementation of Cognitive Behavioral Treatment (CBT) group for clients on supervision. This incorporates a four hour block of Real Colors.
Roosevelt also uses his strong communication skills working with teens as a youth leader for the past 11 years with his church. Roosevelt looks forward to working alongside the many other skilled and talented TVG trainers to provide consumers with the best training available for increasing communication skills, that will enrich workplace productivity, overall employee morale and produce better intended outcomes.