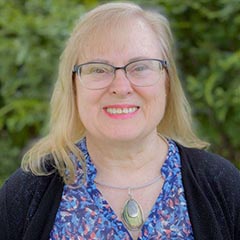 Sandy Rivers
Education:
BA - Human Services and MA in Adult Learning
Practice Areas:
Alcoholism & Substance Abuse Counselor, OASAS and ASAP-NYCB certified trainer, Trauma & Motivational Interviewing Trainer, Coach
Personal Experience
Sandy Rivers has been working in the field of substance use disorder for 35 years. She holds a BA in Human Services and Master's in Adult Learning, both from Empire State College, where she specialized in trauma and counselor education. Sandy is a Credential Alcoholism and Substance Abuse Counselor and has worked in all aspects of treatment. She was employed by Crouse Health Substance Abuse Treatment Center for over 13 years, where she worked in the Day Treatment Program, before being promoted to charge counselor, and then supervisor. Sandy supervised a Men's and Women's Day Treatment Program, which included a SAMHSA grant for pregnant women, along with the Medicated Assisted Treatment program. Sandy is an OASAS and ASAP-NYCB certified trainer. She is an advanced Motivational Interviewing Trainer, beginner, intermediate and advanced levels. Sandy is an OASAS Trauma Champion, having completed the 6-month intensive training program developed by the University of Buffalo and sponsored by OASAS.
Sandy is an Neurolinguistic Programing coach, hypnotherapist, and Timeline Therapist®. She holds an advanced Clinical Hypnotherapy certificate and is approved as an auricular acupuncturist for detoxification within an OASAS facility.
Her approach is one of person-centered care that embraces the spirit of MI. Sandy's training style includes experiential activities and practice. She includes activities that appeal to different learning styles in her effort to be sure that each learner understands the material being taught. Her experience with MI and her background in adult learning, helps her provide dynamic and interesting trainings that go beyond a traditional lecture style of teaching.